For the past couple of years I have enjoyed volunteering through the free summer lunch program that Groveport Madison Human Needs coordinates. I feared that the effects of Covid-19, including social distancing, would cause an inability for us to continue. I am joyous to report that my fear was unnecessary!
Changes were inevitably required and daily hot lunches evolved into packed meals. The families that come to retrieve them are extremely kind. I could not be happier to help them in any way I can! Through the combined actions of many who purchase, pack, deliver, and distribute it truly feels that we are making a difference!On top of that, the summer lunch program recently began providing fresh produce including apples, oranges, onions, celery, potatoes, and carrots. You should see the smiles that we get at Middle School Central when they see the box!
I am so grateful to be able to distribute twice a week for this amazing cause! It almost seems like we are able to serve more children at the Groveport Madison Middle School Central location through the packed lunch program! Some days the count reaches over 50 students!
And, from our board member and summer lunch volunteer, Debbie Miller: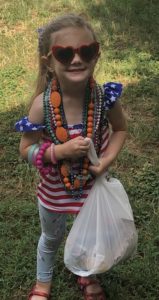 Being a part of the Grab and Go lunch program has been a wonderful experience. It has allowed me to meet more residents within my community but the biggest thrill for me is the smiles on the children's faces when we hand them their bags. It's such a feeling of "we got this right". Each and every child says thank you, restoring my faith in the younger generation. These are the stories we don't hear about, the stories we need to know.
*Picture given by permission from mom.